Kitchenwares & Appliances - Transparent Lemon Squeezer by The master of Life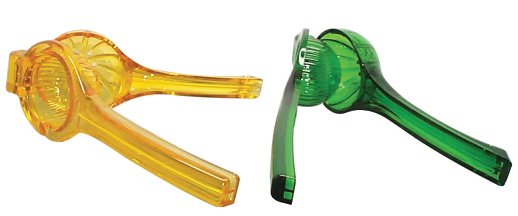 Item No. HBJCP

Great for cooking, juicing or bar use.
Quite possibly the fastest way to get the juice from your lemons.

Simply place half of a lemon or lime cut side down into the squeezer and press the handles together to get fresh seed-free, pulp-free juice with no mess and no sticky hands!

This lemon colored, crystal-clear lemon juicer is crafted of heavy duty PC for strength and beauty of design and is completely dishwasher safe.


---

Manual Citrus Juicer: ET Juicer | Modern Juicer | Square Juicer | Deluxe Juicer | Jumbo Juicer | Round Juicer |

2-in-1 Hand Juicer
Tilt-Top Juicer | Fruit-Vegetable juice press |

Transparent Lemon Squeezer |

Spider citrus squeezer |

X-Lever Citrus Juicer
Commercial Citrus Juicer: Professional Restaurant Juicer | Restaurant Juicer |

JuiceKing Citrus Juicer |

Patent Caipirinha Press Juicer
iLever Family Style Corkscrew: Chrome Lever Model | iLever Model |

Deluxe iLever Model |

Vinipull Model
Figural Corkscrew: Fish Corkscrew |

Crownfish Corkscrew |

Lobster Corkscrew
Professional Wine Opener: Table Mounted | Table Mounted with Bottle Holder | Wall Mounted | Wall Mounted with Bottle Holder
Ice Crusher: Sharpener Ice Crusher | Vogue Ice Crusher | Transparent Ice Crusher | Round Ice Crusher |

S/S Ice Crusher |

2in1 Ice Crusher
Wine Rack: Chrome Wine Rack | Aluminum Wine Rack | Modular Wine Rack System | Table-Flower Wine & Magazine Rack |

Acrylic Wine Rack
Wine & Champagne Cooler: Acrylic Wine Cooler | Aluminum Wine & Champagne Bucket | Stainless Steel Wine Cooler |

Fish Wine Cooler
Novelty Stoppers & Thermometers: Patent Wine Stopper & Pourer | Adam & Eva Series | Angel & Devil Series |

King & Queen Series
Wine & Bar Accessories Set: Gift Bar Set | Other Accessories
Neoprene Wine & Bar Accessories: Neoprene Wine Bag | Neoprene Wine & Champagne Carrier | Neoprene Wine, Champagne & Beverage Chiller sleeves
Neoprene Wine & Beverage Cooler | Neoprene Cool Jacket | Neoprene Ice Bucket | Neoprene Bottle Cover | Neoprene Wine Stand & serving Cooler
Neoprene Wine Rack | Wine Decanter Ice Jacket | Neoprene Cans & Bottles Bag | Neoprene Coaster Set | Neoprene Bottle Coaster | Neoprene Ashtray
Neoprene Kitchen & TableTop Accessories | Neoprene Tea & Coffee Accessories | Neoprene Bathroom Accessories | Neoprene Promotion Items


WenBen Profile: Company Profile | R & D | Awards | Trade Shows | Contact Us | PDF Catalog | Promotional Poster | Game
User Guide: User Instructions | Consumer Guide | Buyer Guide | Customer Reviews | Chinese Version | Home |

Link
Related Catalog: Neoprene Collection | Housewares & Tablewares | Aluminum Furniture | Aluminum Extrusion and Door & Window

Copyright&copy 1999-2003, Wen Ben Aluminum Extrusions Co., Ltd. All Rights Reserved.
No. 77 Hwan-Gong Road | Yung-Kang Industrial Park | Tainan Hsiung 710 | Taiwan R.O.C
Office Tel:886-6-2335391 | Fax:886-6-2336080 | Email:wenben@mail.wb.com.tw
Factory Tel:886-6-2632911 | Fax:886-6-2611039