User Instructions

"Please read carefully and retain for future reference"

Manual Citrus Juicer:
The manual citrus juicer can be used for a variety of fruit, e.g. Orange, Lemon, Lime and Grapefruit, quickly,
efficiently and easily.



USE:
Place the juicer onto a flat secure surface. Sit the strainer cone on the metal beaker and place onto the plastic pad of the juicer.

Cut the fruit in half and put half onto the strainer cone, using the handle slowly lower the cone onto the fruit (beware that you do not trap your fingers), support the Juicer with one hand while applying pressure to the handle with the other hand.

The strainer cone will catch any pulp and seeds allowing the juice to be caught in the metal beaker, (never replace the metal beaker for a plastic type). Once the all the juice has been squeezed from the fruit release the handle and removes the empty skin.

You fresh juice is ready.

CARE AND CLEANING:
After use always wash the strainer cone and beaker with tap water, wipe over the Juicer with a clean damp cloth (not forgetting under the cone), and dry thoroughly with a clean dry cloth.

Clan under the plastic pad by pushing out from under the base, always replace after cleaning.

Aluminum parts (strainer cone) not suitable for use in dishwasher.
Wash in warm soapy water.
Ensure product in dried thoroughly.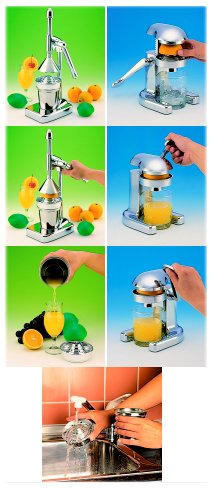 ---

Chrome Lever Model Corkscrew:
The corkscrew can work on all sizes and types of wine bottles.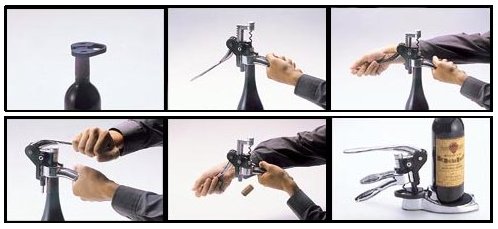 USE:
Expose cork of wine bottle by removing top of foil cap with foil cutter.

Take the lever back. Place corkscrew onto bottle neck. Grip the bottle firmly with the hangles so that the black pins protrude as shown.

Whilst maintaining a firm grip, bring the lever up and over as shown.

Still with a firm grip take the lever back and over to the starting position.

Remove the corkscrew from bottle. Keeping the handles closed, swing lever forward and back to release the cork.

You can store the Chrome Lever Model so that you put the wine straight on to the stand and use it as an unusual wine coaster for you dining table or sideboard.

CARE AND CLEANING:
Never submerge corkscrew in water as it may damage the mechanism. We recommend that you clean corkscrew with warm soapy water to keep it clean an operating smoothly. Be sure to wipe away pieces of cork that may cling to the corkscrew.
Never oil or grease your corkscrew.

Note: While the corkscrew is built for speed, the corks of fine wine are sometimes fragile. After inserting the corkscrew into a fragile cork, remove it slowly and gently.
---

Manual Citrus Juicer: ET Juicer | Modern Juicer | Square Juicer | Deluxe Juicer | Jumbo Juicer | Round Juicer |

2-in-1 Hand Juicer
Tilt-Top Juicer | Fruit-Vegetable juice press |

Spider citrus squeezer |

X-Lever Citrus Juicer
Commercial Citrus Juicer: Professional Restaurant Juicer | Restaurant Juicer |

JuiceKing Citrus Juicer
iLever Family Style Corkscrew: Chrome Model | iLever Model |

Deluxe iLever Model |

Vinipull Model
Figural Corkscrew: Fish Corkscrew |

Uglyfish Corkscrew |

Lobster Corkscrew
Professional Wine Opener: Table Mounted | Table Mounted with Bottle Holder | Wall Mounted | Wall Mounted with Bottle Holder
Ice Crusher: Sharpener Ice Crusher | Vogue Ice Crusher | Crystal Ice Crusher | Round Ice Crusher |

Stainless Steel Ice Crusher |

2-in-1 Ice Crusher
Wine Rack: Wine Rack-Chrome | Wine Rack-Coating |

Modular Wine Rack System |

Table-Flower Wine & Magazine Rack
Wine & Champagne Cooler: Acrylic Wine Cooler | Aluminum Wine & Champagne Bucket | Stainless Steel Wine Cooler |

Fish Wine Cooler
Wine & Bar Accessories: Accessories Set | Other Accessories | Patent Wine Stopper & Pourer |

Adam & Eva Series |

Angel & Devil Series

WenBen Profile: Company Profile | R & D | Awards | Trade Shows | Contact Us | PDF Catalog | Promotional Poster
User Guide: User Instructions | Consumer Guide | Buyer Guide | Chinese Version | Home
Related Catalog: Housewares & Tablewares | Aluminum Furniture | Aluminum Extrusion and Door & Window

Copyright&copy 1999-2003, Wen Ben Aluminum Extrusions Co., Ltd. All Rights Reserved.
No. 77 Hwan-Gong Road | Yung-Kang Industrial Park | Tainan Hsiung 710 | Taiwan R.O.C
Office Tel:886-6-2335391 | Fax:886-6-2336080 | Email:wenben@mail.wb.com.tw
Factory Tel:886-6-2632911 | Fax:886-6-2611039