Research and Development
Our highly educated R&D staff receive continuous training from research facilities in the United States, Germany and Japan.
Our average R&D staff has three years of experience. The expertise of our staff range in the fields of computer technology, product design and enhancement of production efficiency. We develop new products not only to meet existing market demands, but also to explore new markets. With over US$2,000,000 in R&D investment, we constantly seek to improve:



New product type


Product design


Product quality


Materials used


Production efficiency


Cost-effectiveness


QC/Technical Support: 100% in-house


QC Staff: 3 to 5


Standards & Approvals: ITS/SGS Labtest


Materials/Components: Zinc alloy, Aluminum, Stainless Steel, ABS, AS, PS, PC from Taiwan


Procedures/testing Details:
Materials and components are visually inspected during every stage of production, and there is a random checking of products before delivery. Our methods are strict and thorough, and our employees are very responsible. We have surpassed many international standards.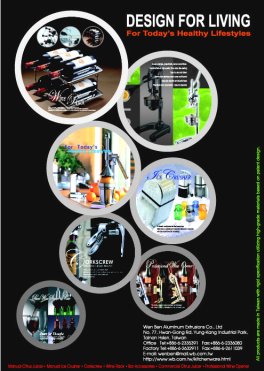 Patents & Copyrights

All products are made in Taiwan with rigid specification utilizing high-grade materials based on patent design.
Many patents in the EU, Germany, USA, UK, France, Japan and Taiwan.......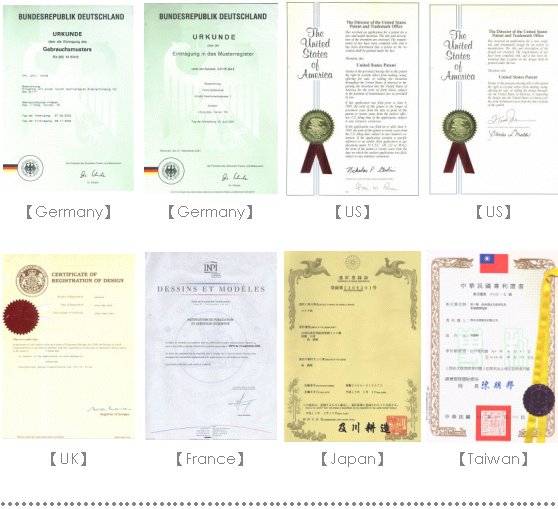 ---

Manual Citrus Juicer: ET Juicer | Modern Juicer | Square Juicer | Deluxe Juicer | Jumbo Juicer | Round Juicer |

2-in-1 Hand Juicer
Tilt-Top Juicer | Fruit-Vegetable juice press |

Spider citrus squeezer |

X-Lever Citrus Juicer
Commercial Citrus Juicer: Professional Restaurant Juicer | Restaurant Juicer |

JuiceKing Citrus Juicer
iLever Family Style Corkscrew: Chrome Model | iLever Model |

Deluxe iLever Model |

Vinipull Model
Figural Corkscrew: Fish Corkscrew |

Uglyfish Corkscrew |

Lobster Corkscrew
Professional Wine Opener: Table Mounted | Table Mounted with Bottle Holder | Wall Mounted | Wall Mounted with Bottle Holder
Ice Crusher: Sharpener Ice Crusher | Vogue Ice Crusher | Crystal Ice Crusher | Round Ice Crusher |

Stainless Steel Ice Crusher |

2-in-1 Ice Crusher
Wine Rack: Wine Rack-Chrome | Wine Rack-Coating |

Modular Wine Rack System |

Table-Flower Wine & Magazine Rack
Wine & Champagne Cooler: Acrylic Wine Cooler | Aluminum Wine & Champagne Bucket | Stainless Steel Wine Cooler |

Fish Wine Cooler
Wine & Bar Accessories: Accessories Set | Other Accessories | Patent Wine Stopper & Pourer |

Adam & Eva Series |

Angel & Devil Series

WenBen Profile: Company Profile | R & D | Awards | Trade Shows | Contact Us | PDF Catalog | Promotional Poster
User Guide: User Instructions | Consumer Guide | Buyer Guide | Chinese Version | Home
Related Catalog: Housewares & Tablewares | Aluminum Furniture | Aluminum Extrusion and Door & Window

Copyright&copy 1999-2003, Wen Ben Aluminum Extrusions Co., Ltd. All Rights Reserved.
No. 77 Hwan-Gong Road | Yung-Kang Industrial Park | Tainan Hsiung 710 | Taiwan R.O.C
Office Tel:886-6-2335391 | Fax:886-6-2336080 | Email:wenben@mail.wb.com.tw
Factory Tel:886-6-2632911 | Fax:886-6-2611039