¡@
¡@



Kitchenwares & Appliances - X-Lever Citrus Press by The Master of Life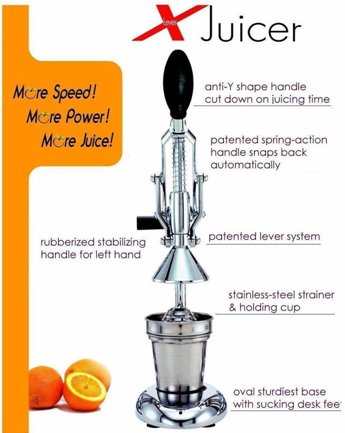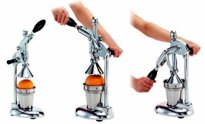 Start the day with a fresh blast of anti-oxidant rich orange juice from the X-Lever and mop up those free radicals. Alternatively, use it for making fresh orange juice cocktails! Presented in chrome and stainless steel, the X-Lever is a kitchen object of great beauty, but this juicer delivers on all the main practical points too.

The powerful cantilever design gives an excellent juice yield and there is a useful stabilising handle to steady the juicer while you squeeze. Another great feature is the return spring that pops the handle back up effortlessly for the next pressing. The collection cup sits neatly in its locating seat and the pressing cone simply sits on top, to strain and press the juice.

Your fresh orange juice only comes into contact with stainless steel, which is very hygienic and easy to clean. Suitable for oranges and other small citrus, the X-Lever has bags of visual appeal, it's easy to use and clean - and it has a very lean and fit price tag!



Patent & design rights worldwide
---

Manual Citrus Juicer: ET Juicer | Modern Juicer | Square Juicer | Deluxe Juicer | Jumbo Juicer | Round Juicer |

2-in-1 Hand Juicer
Tilt-Top Juicer | Fruit-Vegetable juice press | Transparent Lemon Squeezer | Spider citrus squeezer |

X-Lever Citrus Juicer
Commercial Citrus Juicer: Professional Restaurant Juicer | Restaurant Juicer | JuiceKing Citrus Juicer | Patent Caipirinha Press Juicer
iLever Family Style Corkscrew: Chrome Lever Model | iLever Model | Deluxe iLever Model | Vinipull Lever Model & Wine Tool Set
Figural Wine & Bar Accessories: Fish Corkscrew | Crownfish Corkscrew | Lobster Corkscrew | Fish Wine Cooler | Balancing Fish Wine Holder
Professional Wine Opener: Table Mounted | Table Mounted with Bottle Holder | Wall Mounted | Wall Mounted with Bottle Holder
Ice Crusher: Sharpener Ice Crusher | Vogue Ice Crusher | Transparent Ice Crusher | Round Ice Crusher |

Stainless Steel Ice Crusher

2 in 1 Transparent Ice Crusher & Bucket |

Transparent Vogue Ice Crusher
Wine Rack: Chrome Wine Rack | Aluminum Wine Rack | Modular Wine Rack System | Table-Flower Wine & Magazine Rack | Acrylic Wine Rack
Wine & Champagne Cooler: Acrylic Wine Cooler | Aluminum Wine & Champagne Bucket | Stainless Steel Wine Cooler |
Novelty Stoppers & Thermometers: 2 in 1 Patent Wine Stopper & Pourer | Adam & Eva Series | Angel & Devil Series | King & Queen Series
Wine Thermometer with Wood Holder | Wine opener with Wood Holder
3 pcs Wine Stopper Set with Acrylic Holder | 3 in 1 Patent Wine Stopper & Pourer & Cork Holder | Couple Drink Stirrer & Marks
Couple Wine Marks | Couple Magnetic Coasters | He & She Key Holder with Mirror | Magnetic Mini Beauty Mirror
Wine & Bar Accessories Set: PVC Box Gift Bar Set | Wine Lover's Set in Wooden Box | Other Wine Accessories
Neoprene Wine & Bar Accessories: Neoprene Wine Bag | Neoprene Wine & Champagne Carrier | Neoprene Wine, Champagne & Beverage Chiller sleeves
Neoprene Wine & Beverage Cooler | Neoprene Cool Jacket | Neoprene Ice Bucket | Neoprene Bottle Cover | Neoprene Wine Stand & serving Cooler
Neoprene Wine Rack | Wine Decanter Ice Jacket | Neoprene Cans & Bottles Bag | Neoprene Coaster Set | Neoprene Bottle Coaster | Neoprene Ashtray
Neoprene Kitchen & TableTop Accessories | Neoprene Tea & Coffee Accessories | Neoprene Bathroom Accessories | Neoprene Promotion Items


WenBen Profile: Company Profile | R & D | Awards | Trade Shows | Contact Us | PDF Catalog | Promotional Poster | Game
User Guide: User Instructions | Consumer Guide | Buyer Guide | Customer Reviews | Chinese Version | Home |

Link
Related Catalog: Neoprene Collection | Housewares & Tablewares | Aluminum Furniture | Aluminum Extrusion and Door & Window

Copyright&copy 1999-2006, Wen Ben Aluminum Extrusions Co., Ltd. All Rights Reserved.| Email:wenben@mail.wb.com.tw
No.6, Hsing-Ho Second Road | An-Ping Industrial Park | Tainan 702 Taiwan R.O.C Tel:+886-6-2632911 Fax:+886-6-2611039


Customers logo & OEM orders are welcome

Email:wenben@mail.wb.com.tw