Kitchenwares & Appliances - Vinipull Lever Corkscrew by The Master of Life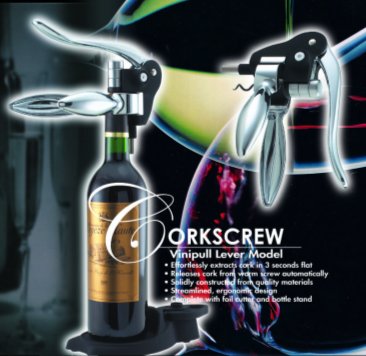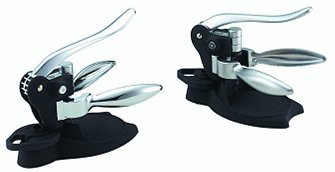 Item No. HBWO-06 Chrome Finish
Item No. HBWO-06S Satin(Pearl) Finish



A RANGE OF ASPIRATIONAL DESIGNER
CLASSIC FOR EVERDAY USE IN YOUR HOME
ERGONOMIC SHAPED CORKSCREW
WITH SELF PULLING ACTION
NON STICK COATED SCREW WILL NOT DAMAGE CORK
INCLUDES FOIL CUTTER AND DISPLAY BASE(COASTER)
SUITABLE FOR ALL SIZES OF WINE BOTTLES
IDEAL FOR ANY WINE ENTHUSIAST


MAKES A MEMORABLE BUSINESS GIFT. 8"L. GIFT BOXED.
PATENTED




This high quality corkscrew features:


A luxurious, ergonomically shaped and sleek design for ease of use.


Die cast and zinc plated, more weight gives better leverage.


Works on all sizes and types of wine bottles..


Strong non-stick coated screw, will not damage cork.


Comes complete with foil cutter and display base(wine coaster).


Beautifully packaged - an ideal gift for any wine and design enthusiast!




Size: 8"L
Weight:1040 g
Capacity: N/A
Material: Zinc alloy
Features:


3-Piece Wine Opener Set-corkscrew, foil cutter and display base(wine coaster)





♦While the corkscrew is built for speed, the corks of fine wine are sometimes fragile. After inserting the corkscrew into a fragile cork, remove it slowly and gently.
♦Never submerge corkscrew in water as it may damage the mechanism.
♦To clean corkscrew use warm soapy water and a damp cloth, keep it clean and operating smoothly.
♦The screw/spiral is clean/wiped regularly to prevent the accumulation of wine cork particles.
♦Never lubricate your corkscrew.

Replacement screw:
♦You may replace the screw/spiral by unscrewing the top cap, removing the old screw/spiral, and inserting the replacement.
Screw the top cap on firmly before use.

Limitations:
♦The corkscrew is not designed to recork an opened bottle. Using it in this way will damage the product.
♦The corkscrew is not designed to uncork a Prosecco&reg bottle and remove a plastic "cork" (such as a SupremeCork&reg).
♦If the cork is sealed with a wax plug, the wax plug must be removed before using the corkscrew.
♦Please don't open the handles too wide, as this way will damage the corkscrew.





12PCS/CARTON/1.75CUFT
N.W 12.6 kgs
G.W 16.3 kgs
Color gift box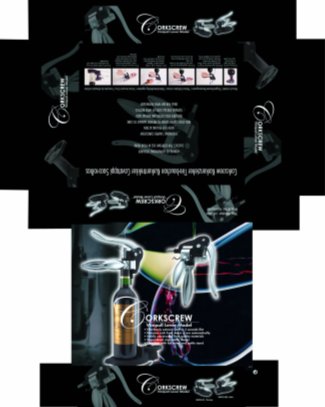 ---

Manual Citrus Juicer: ET Juicer | Modern Juicer | Square Juicer | Deluxe Juicer | Jumbo Juicer | Round Juicer |

2-in-1 Hand Juicer
Tilt-Top Juicer | Fruit-Vegetable juice press |

Spider citrus squeezer |

X-Lever Citrus Juicer
Commercial Citrus Juicer: Professional Restaurant Juicer | Restaurant Juicer |

JuiceKing Citrus Juicer
iLever Family Style Corkscrew: Chrome Model | iLever Model |

Deluxe iLever Model |

Vinipull Model
Figural Corkscrew: Fish Corkscrew |

Uglyfish Corkscrew |

Lobster Corkscrew
Professional Wine Opener: Table Mounted | Table Mounted with Bottle Holder | Wall Mounted | Wall Mounted with Bottle Holder
Ice Crusher: Sharpener Ice Crusher | Vogue Ice Crusher | Crystal Ice Crusher | Round Ice Crusher |

Stainless Steel Ice Crusher |

2-in-1 Ice Crusher
Wine Rack: Wine Rack-Chrome | Wine Rack-Coating |

Modular Wine Rack System |

Table-Flower Wine & Magazine Rack
Wine & Champagne Cooler: Acrylic Wine Cooler | Aluminum Wine & Champagne Bucket | Stainless Steel Wine Cooler |

Fish Wine Cooler
Wine & Bar Accessories: Accessories Set | Other Accessories | Patent Wine Stopper & Pourer |

Adam & Eva Series |

Angel & Devil Series

WenBen Profile: Company Profile | R & D | Awards | Trade Shows | Contact Us | PDF Catalog | Promotional Poster
User Guide: User Instructions | Consumer Guide | Buyer Guide | Chinese Version | Home
Related Catalog: Housewares & Tablewares | Aluminum Furniture | Aluminum Extrusion and Door & Window

Copyright&copy 1999-2003, Wen Ben Aluminum Extrusions Co., Ltd. All Rights Reserved.
No. 77 Hwan-Gong Road | Yung-Kang Industrial Park | Tainan Hsiung 710 | Taiwan R.O.C
Office Tel:886-6-2335391 | Fax:886-6-2336080 | Email:wenben@mail.wb.com.tw
Factory Tel:886-6-2632911 | Fax:886-6-2611039