Neoprene Wine & Champagne & Beverage Chiller by The Master of Life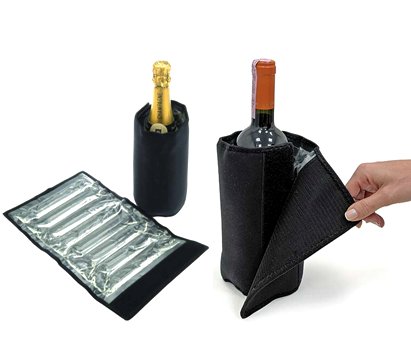 Item No. HBWB-16: Wine & Champagne & Beverage Chiller

Color available: Black/Burgundy or any colors

Use straight from the freezer to keep bottles cold for up to four hours

Chill wine, champagne and other beverages from room temperature to serving temperature within few minutes with Neoprene Chiller . Simply store the Neoprene Chiller in your freezer for at least 4 hours. When you're ready, pre-adjust the velcrose fastener and slide it over the top of the bottle. Your beverage will be perfectly chilled, without all the ice and an ice bucket.

Insulated with Neoprene chiller-- stays cold for hours
Chills wine, champagne and other beverages faster and longer!
Velcrose fastener adjusts to fit most wine, champagne and soda bottles.
Stores easily in your freezer so it's always ready.
Reusable and unbreakable; ideal for outdoor dining.
Patent & design rights worldwide

---

Neoprene Wine & Bar Accessories: Neoprene Wine Bag | Neoprene Wine & Champagne Carrier | Neoprene Wine, Champagne & Beverage Chiller sleeves
Neoprene Wine & Beverage Cooler | Neoprene Cool Jacket | Neoprene Ice Bucket | Neoprene Bottle Cover | Neoprene Wine Stand & serving Cooler
Neoprene Lunch Bag | Neoprene Wine Rack | Wine Decanter Ice Jacket | Neoprene Cans & Bottles Bag | Neoprene Coaster Set | Neoprene Ashtray
2 in 1 Neoprene wine & Magazine Rack | Beverage Decanter with Ice Jacket | Neoprene Color Chart-NYLON | Neoprene Color Chart-POLYESTER
Neoprene Kitchen & TableTop Accessories | Neoprene Tea & Coffee Accessories | Neoprene Bathroom Accessories | Neoprene Promotion Items


Related Catalog:
Wine & Bar Accessories
|
Housewares & Tablewares
|
Neoprene Collection Series
|
iSmart™ Collection Series
|
Chinese
Copyright© 1999-2008, The Master of Life® Wen Ben Industrial Co., Ltd. All Rights Reserved.
The configuration and overall appearance of all products and its packaging remain the copyright of Wen Ben Industrial Co., Ltd
No.8, Hsing-Ho Second Road | An-Ping Industrial Park | Tainan 702 Taiwan R.O.C
Tel:+886-6-2632911 | Fax:+886-6-2611039 | Email:wenben@mail.wb.com.tw wenben.even@msa.hinet.net


Customers logo & OEM orders are welcome