Insulated Neoprene Ice Bucket by The Master of Life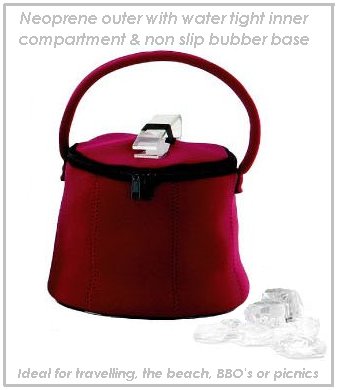 Insulated, Waterproof

A handsome and stylish addition to your cocktail bar. A neoprene material serves as a protective and insulated place for ice, while the neoprene lid is the perfect topper to keep things cool.

An economical solution to benchtop cooling, Neoprene Ice Bucket works as an excellent insulator that keeps ice from melting for extended periods of time. It will not rust, leak or sweat and is inert to acetone, liquid nitrogen, dry ice and salt.

Item No. HBWB-21: Neoprene Ice Bucket with ice tong

Color available:Black / Burgundy

Patent Pending

Your design, OEM & ODM are most welcome.


---

Neoprene Wine & Bar Accessories: Neoprene Wine Bag | Neoprene Wine & Champagne Carrier | Neoprene Wine, Champagne & Beverage Chiller sleeves
Neoprene Wine & Beverage Cooler | Neoprene Cool Jacket | Neoprene Ice Bucket | Neoprene Bottle Cover | Neoprene Wine Stand & serving Cooler
Neoprene Lunch Bag | Neoprene Wine Rack | Wine Decanter Ice Jacket | Neoprene Cans & Bottles Bag | Neoprene Coaster Set | Neoprene Ashtray
2 in 1 Neoprene wine & Magazine Rack | Beverage Decanter with Ice Jacket | Neoprene Color Chart-NYLON | Neoprene Color Chart-POLYESTER
Neoprene Kitchen & TableTop Accessories | Neoprene Tea & Coffee Accessories | Neoprene Bathroom Accessories | Neoprene Promotion Items


Related Catalog:
Wine & Bar Accessories
|
Housewares & Tablewares
|
Neoprene Collection Series
|
iSmart™ Collection Series
|
Chinese
Copyright© 1999-2008, The Master of Life® Wen Ben Industrial Co., Ltd. All Rights Reserved.
The configuration and overall appearance of all products and its packaging remain the copyright of Wen Ben Industrial Co., Ltd
No.8, Hsing-Ho Second Road | An-Ping Industrial Park | Tainan 702 Taiwan R.O.C
Tel:+886-6-2632911 | Fax:+886-6-2611039 | Email:wenben@mail.wb.com.tw wenben.even@msa.hinet.net


Customers logo & OEM orders are welcome