Professional Wine Opener-Wall Mounted type by The Master of Life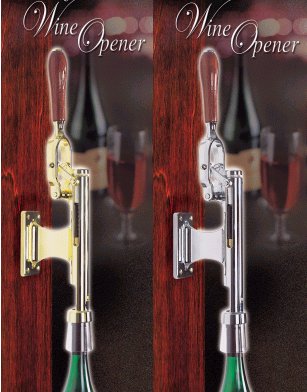 One of the best wall - mounted uncorking machines in the business.

Item No. HBUM-03C: Chrome finish
Item No. HBUM-03B: Brass finish

The uncorking machines shown below are suitable for bars and restaurants for high-volume professional use. A sleek design with magnificent heavy chrome or brass plate exterior. With one swift motion, the cork is penetrated and removed.

11" lever arm 13" tall, All metal constructions.

We also carry replacement parts for these wine openers.





This high quality professional wine opener features:



The Professional Automatically ejects the cork when the bottle is opened.
Inserts into the cork with a downward stroke of the lever arm.
Extracts the cork with the upward stroke.


Sturdy back plate with swing away handle. Safety barrier around auger.


Ideal for wineries, tasting rooms, fine restaurants, caterers, and home bars


Chrome-plated, brass-plated finish.






Size: 11" lever arm. 13" tall.
Weight: 1840 g
Capacity: N/A
Material: Zinc alloy
Features:


Style/Color: Chrome, Brass, Satin


Non-stick Teflon screw (worm), 6.9cm(L), 4 turn screw


Metal( Stem, Stem-nut, Stem carrier)





6PCS/CARTON/2.82 CUFT
N.W 11.1 kgs
G.W 16.3 kgs
Color gift box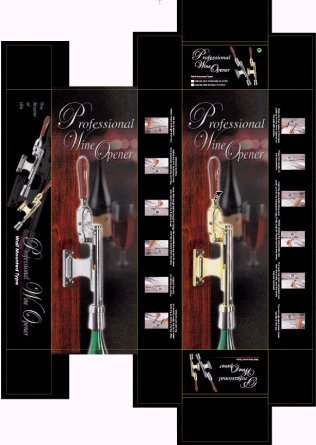 ---

Manual Citrus Juicer: ET Juicer | Modern Juicer | Square Juicer | Deluxe Juicer | Jumbo Juicer | Round Juicer |

2-in-1 Hand Juicer
Tilt-Top Juicer | Fruit-Vegetable juice press |

Spider citrus squeezer |

X-Lever Citrus Juicer
Commercial Citrus Juicer: Professional Restaurant Juicer | Restaurant Juicer |

JuiceKing Citrus Juicer
iLever Family Style Corkscrew: Chrome Model | iLever Model |

Deluxe iLever Model |

Vinipull Model
Figural Corkscrew: Fish Corkscrew |

Uglyfish Corkscrew |

Lobster Corkscrew
Professional Wine Opener: Table Mounted | Table Mounted with Bottle Holder | Wall Mounted | Wall Mounted with Bottle Holder
Ice Crusher: Sharpener Ice Crusher | Vogue Ice Crusher | Crystal Ice Crusher | Round Ice Crusher |

Stainless Steel Ice Crusher |

2-in-1 Ice Crusher
Wine Rack: Wine Rack-Chrome | Wine Rack-Coating |

Modular Wine Rack System |

Table-Flower Wine & Magazine Rack
Wine & Champagne Cooler: Acrylic Wine Cooler | Aluminum Wine & Champagne Bucket | Stainless Steel Wine Cooler |

Fish Wine Cooler
Wine & Bar Accessories: Accessories Set | Other Accessories | Patent Wine Stopper & Pourer |

Adam & Eva Series |

Angel & Devil Series

WenBen Profile: Company Profile | R & D | Awards | Trade Shows | Contact Us | PDF Catalog | Promotional Poster
User Guide: User Instructions | Consumer Guide | Buyer Guide | Chinese Version | Home
Related Catalog: Housewares & Tablewares | Aluminum Furniture | Aluminum Extrusion and Door & Window

Copyright&copy 1999-2003, Wen Ben Aluminum Extrusions Co., Ltd. All Rights Reserved.
No. 77 Hwan-Gong Road | Yung-Kang Industrial Park | Tainan Hsiung 710 | Taiwan R.O.C
Office Tel:886-6-2335391 | Fax:886-6-2336080 | Email:wenben@mail.wb.com.tw
Factory Tel:886-6-2632911 | Fax:886-6-2611039