2 in 1 Patent Wine Stopper & Pourer by The Master of Life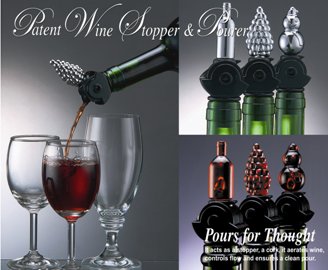 POURS FOR THOUGHT

This patented wine stopper and pourer gives wine the respect it deserves, protecting against spillage with a patented design. Wine gets proper aeration and oxidation as it pours gently and evenly.
Made of ABS plastic.

Item No. HBWS-01B/G/S:
Bottle, Grape, Snowman with red color

Item No. HBWS-01BC/GC/SC:
Bottle, Grape, Snowman with chrome finish



Patented



This high quality Patent Wine Stopper & Pourer features:



Unique product has five functions.
It acts as a stopper,
a cork,
it aerates wine,
controls flow
ensures a clean pour.



You won't worry about spilling red wine on your good table cloth or oriental carpet.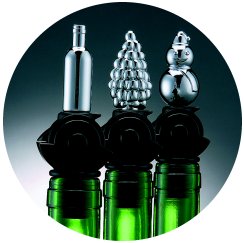 Size: 4(W)x10(H)cm
Weight: 30 g
Capacity: Dia.18mm
Material: ABS plastic
Features:


Wine gets proper aeration and oxidation as it pours gently and evenly.


Pour the wine with finesse! Patent wine stopper/pourer will wow your guests!





360PCS/CTN/1.7CUFT
N.W 10.8 KGS
G.W 12.3 KGS
Window Color gift box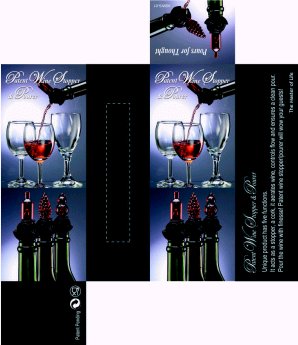 ---

Manual Citrus Juicer: ET Juicer | Modern Juicer | Square Juicer | Deluxe Juicer | Jumbo Juicer | Round Juicer |

2-in-1 Hand Juicer
Tilt-Top Juicer | Fruit-Vegetable juice press | Transparent Lemon Squeezer | Spider citrus squeezer |

X-Lever Citrus Juicer
Commercial Citrus Juicer: Professional Restaurant Juicer | Restaurant Juicer | JuiceKing Citrus Juicer | Patent Caipirinha Press Juicer
iLever Family Style Corkscrew: Chrome Lever Model | iLever Model | Deluxe iLever Model | Vinipull Lever Model & Wine Tool Set
Figural Wine & Bar Accessories: Fish Corkscrew | Crownfish Corkscrew | Lobster Corkscrew | Fish Wine Cooler | Balancing Fish Wine Holder
Professional Wine Opener: Table Mounted | Table Mounted with Bottle Holder | Wall Mounted | Wall Mounted with Bottle Holder
Ice Crusher: Sharpener Ice Crusher | Vogue Ice Crusher | Transparent Ice Crusher | Round Ice Crusher | Stainless Steel Ice Crusher
2 in 1 Transparent Ice Crusher & Bucket |

Transparent Vogue Ice Crusher
Wine Rack: Chrome Wine Rack | Aluminum Wine Rack | Modular Wine Rack System | Table-Flower Wine & Magazine Rack |

Acrylic Wine Rack
Wine & Champagne Cooler: Acrylic Wine Cooler | Aluminum Wine & Champagne Bucket | Stainless Steel Wine Cooler |
Novelty Stoppers & Thermometers: 2 in 1 Patent Wine Stopper & Pourer | Adam & Eva Series | Angel & Devil Series | King & Queen Series
3 pcs Wine Stopper Setr with Acrylic Holder | 3 in 1 Patent Wine Stopper & Pourer & Cork Holder | Couple Drink Stirrer & Marks
Couple Wine Marks | Couple Magnetic Coasters | Couple Wine Marks | He & She Key Holder with Mirror Magnetic Mini Beauty Mirror
Wine & Bar Accessories Set: PVC Box Gift Bar Set | Wine Lover's Set in Wooden Box | Other Wine Accessories
Neoprene Wine & Bar Accessories: Neoprene Wine Bag | Neoprene Wine & Champagne Carrier | Neoprene Wine, Champagne & Beverage Chiller sleeves
Neoprene Wine & Beverage Cooler | Neoprene Cool Jacket | Neoprene Ice Bucket | Neoprene Bottle Cover | Neoprene Wine Stand & serving Cooler
Neoprene Wine Rack | Wine Decanter Ice Jacket | Neoprene Cans & Bottles Bag | Neoprene Coaster Set | Neoprene Bottle Coaster | Neoprene Ashtray
Neoprene Kitchen & TableTop Accessories | Neoprene Tea & Coffee Accessories | Neoprene Bathroom Accessories | Neoprene Promotion Items


WenBen Profile: Company Profile | R & D | Awards | Trade Shows | Contact Us | PDF Catalog | Promotional Poster | Game
User Guide: User Instructions | Consumer Guide | Buyer Guide | Customer Reviews | Chinese Version | Home |

Link
Related Catalog: Neoprene Collection | Housewares & Tablewares | Aluminum Furniture | Aluminum Extrusion and Door & Window

Copyright&copy 1999-2006, Wen Ben Aluminum Extrusions Co., Ltd. All Rights Reserved.| Email:wenben@mail.wb.com.tw
No.6, Hsing-Ho Second Road | An-Ping Industrial Park | Tainan 702 Taiwan R.O.C Tel:+886-6-2632911 Fax:+886-6-2611039
Email:wenben@mail.wb.com.tw