Kitchenwares & Appliances - Round Juicer by The master of Life
Manual Citrus Juicer
Heavy duty press
This is a great entry-level squeezer for the kitchen

Item No. HBJA-03

Extract orange, lemon, lime and grapefruit juice quickly and efficiently. Built-in strainer removes pulp and seeds, and non-tip base prevents spills. Designed with more leverage and power to give you all the fresh natural flavor found in these wonderful, healthful fruits. Heavy chromed metal construction and is available in all chrome, stainless and sucking disk design. 14" high.

Patented





This high quality Manual citrus juicer features:



Professional restaurant design in a home juicer.


Powerful, highly leveraged gear system- applies hundreds of pounds of pressure, makes juicing quick and easy.


Stainless steel strainer and funnel-never plastic.


Large 14-ounce holding cup of stainless steel-holds juice for the whole family and eliminates spilling.


Heavy, all zinc metal construction with polished chrome-no plastic parts to break or motor to burn out.


Squeezes sweeter juice- free of bitter skin oil.


Environmentally friendly-uses no electricity.


Easier to use and clean than electric juicers, just remove strainer and rinse under faucet.






Size: 14 inches high
Weight: 2.4 Kgf
Capacity: 14 ounces
Material: Zinc alloy, Stainless steel strainer and funnel
Features:


All polished chrome finish


Professional-type machine similar to those used in health spas, juice bars or domestic use.


Large stainless steel holding cup (14 ounces)


Leverages up to 700 pounds of pressure.





After use always wash the strainer and press cap with tap water, wipe over the Juicer with a clean damp cloth,
(not forgetting under thecone), and dry thoroughly with a clean dry cloth.

Clan under the plastic pad by pushing out from under the base, always replace after cleaning.

Hand wash only. Wash in warm soapy water.

Stainless steel stainer is suitable for use in dishwasher





6PCS/CARTON/2.7CUFT
N.W 14.7 kgs
G.W 17.2 kgs
Color gift box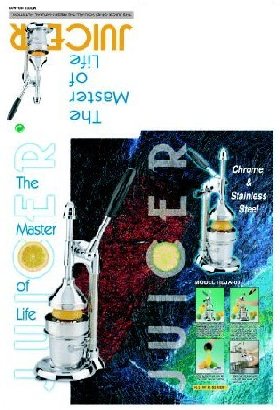 ---

Manual Citrus Juicer: ET Juicer | Modern Juicer | Square Juicer | Deluxe Juicer | Jumbo Juicer | Round Juicer |

2-in-1 Hand Juicer
Tilt-Top Juicer | Fruit-Vegetable juice press |

Spider citrus squeezer |

X-Lever Citrus Juicer
Commercial Citrus Juicer: Professional Restaurant Juicer | Restaurant Juicer |

JuiceKing Citrus Juicer
iLever Family Style Corkscrew: Chrome Lever Model | iLever Model |

Deluxe iLever Model |

Vinipull Model
Figural Corkscrew: Fish Corkscrew |

Crownfish Corkscrew |

Lobster Corkscrew
Professional Wine Opener: Table Mounted | Table Mounted with Bottle Holder | Wall Mounted | Wall Mounted with Bottle Holder
Ice Crusher: Sharpener Ice Crusher | Vogue Ice Crusher | Transparent Ice Crusher | Round Ice Crusher |

S/S Ice Crusher |

2in1 Ice Crusher
Wine Rack: Chrome Wine Rack | Aluminum Wine Rack | Modular Wine Rack System | Table-Flower Wine & Magazine Rack |

Acrylic Wine Rack
Wine & Champagne Cooler: Acrylic Wine Cooler | Aluminum Wine & Champagne Bucket | Stainless Steel Wine Cooler |

Fish Wine Cooler
Wine & Bar Accessories: Gift Bar Set | Other Accessories | Patent Wine Stopper & Pourer | Adam & Eva | Angel & Devil |

King & Queen

WenBen Profile: Company Profile | R & D | Awards | Trade Shows | Contact Us | PDF Catalog | Promotional Poster | Game
User Guide: User Instructions | Consumer Guide | Buyer Guide | Customer Reviews | Chinese Version | Home
Related Catalog: Housewares & Tablewares | Aluminum Furniture | Aluminum Extrusion and Door & Window

Copyright&copy 1999-2004, Wen Ben Aluminum Extrusions Co., Ltd. All Rights Reserved.
No. 77 Hwan-Gong Road | Yung-Kang Industrial Park | Tainan Hsiung 710 | Taiwan R.O.C
Office Tel:886-6-2335391 Fax:886-6-2336080 | Factory Tel:886-6-2632911 Fax:886-6-2611039
Email:wenben@mail.wb.com.tw