Beverage Decanter with Ice Jacket by The Master of Life

A handy solution for serving juice, milk, iced tea. water and more.... with style.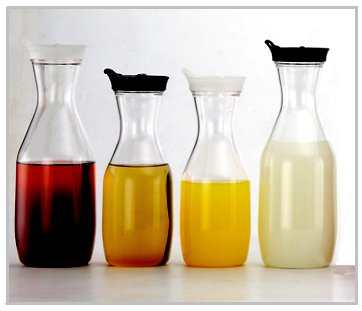 Item No:HBWB-71 1000 ml/33.8 oz
Item No:HBWB-72 1600 ml/54 oz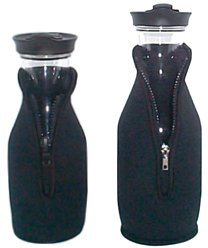 The jars are perfect for juices, milk, iced tea and more.

This handy beverage jar holds up to 1600ml of juice or water.
The jar comes with a black lid which has a flip top and pouring lip. Designed for easy storage in the fridge.

Ideal for serving juice or wine on buffet lines or table side. Made of virtually unbreakable polycarbonate. Lightweight design is easy to handle and safer than glass.

---

Neoprene Wine & Bar Accessories: Neoprene Wine Bag | Neoprene Wine & Champagne Carrier | Neoprene Wine, Champagne & Beverage Chiller sleeves
Neoprene Wine & Beverage Cooler | Neoprene Cool Jacket | Neoprene Ice Bucket | Neoprene Bottle Cover | Neoprene Wine Stand & serving Cooler
Neoprene Lunch Bag | Neoprene Wine Rack | Wine Decanter Ice Jacket | Neoprene Cans & Bottles Bag | Neoprene Coaster Set | Neoprene Ashtray
Neoprene Kitchen & TableTop Accessories | Neoprene Tea & Coffee Accessories | Neoprene Bathroom Accessories | Neoprene Promotion Items
Beverage Jar with Ice Jacket | Neoprene Color Chart-NYLON | Neoprene Color Chart-POLYESTER


Related Catalog:
Wine & Bar Accessories
|
Housewares & Tablewares
|
Neoprene Collection Series
|
iSmart™ Collection Series
|
Chinese
Copyright© 1999-2008, The Master of Life® Wen Ben Industrial Co., Ltd. All Rights Reserved.
No.6, Hsing-Ho Second Road | An-Ping Industrial Park | Tainan 702 Taiwan R.O.C
Tel:+886-6-2632911 | Fax:+886-6-2611039 | Email:wenben@mail.wb.com.tw wenben.even@msa.hinet.net


Customers logo & OEM orders are welcome